"If you don't know where you are going, you'll end up someplace else." - Yogi Berra

Learn what it means to be Couplestrong at our world-renowned weekend workshop for couples created by Chris Cambas and our Couplestrong staff. See for yourself why thousands of couples worldwide have benefited from be Couplestrong.
2 days filled with engaging presentations and experiential activities designed to enhance, strengthen, or restore your bond
For couples of every age
Has produced positive results for over 90% of those who attend
Couplestrong workshops are based on 35,000 hours of face to face therapy with thousands of couples. Our workshops will give you new insights and research-based skills that can dramatically improve the intimacy and friendship in your relationship and help you manage conflict in a healthy, positive way.
Our curriculum was developed by Chris Cambas and our Couplestrong staff. It is based on 35,000 hours of face to face counseling with thousands of couples from all walks of life as well as 1,000+ clinical trainings with therapists worldwide. It's grounded on what actually works in relationships that are happy and stable.
Couples will learn how to enhance their friendship, transform conflicts into dialogues, deepen intimacy, and create shared meaning.
Seven Principles for Making Marriage Work and The Art and Science of Love is a curriculum developed by Dr. John Gottman & Dr. Julie Schwartz-Gottman
The Seven Principles Workshop for couples is a two-day marriage workshop based on the internationally acclaimed research of Dr. John Gottman as presented in his New York Times bestselling book—The Seven Principles for Making Marriage Work. This educational workshop has been offered across the US and internationally, and has strengthened the relationships of tens of thousands of couples. It's specifically designed to help couples improve their friendship and learn powerful communication and conflict management skills.
About
The workshop includes lectures, demonstrations, videos, and private couples exercises. The activities are fun, insightful and informative.  And there is no need to worry about sharing your personal problems in front of others… we don't do any group sharing at this workshop.
Friday evening is specifically created to be a Date Night. Beyond the workshop itself, we will be providing light refreshments will for you to enjoy while you participate in the training. There are also several awesome restaurants nearby where you can grab food before the workshop begins and during the lunch break on Saturday.
The seminar imparts in practical, applicable ways the findings of Dr. Gottman's four decades of research on the habits and patterns of couples. His scientific, longitudinal studies at the University of Washington are without peer in their study of over four thousand couples, measuring everything from the way couples talk to each other, to vital signs, to stress hormone levels, to conflict-recovery techniques.
The research conducted by The Gottman Institute has made Dr. Gottman the most-quoted author on marriage by other authors on marriage. It has provided solid, scientifically-validated conclusions on what makes relationships work. In fact, so reliable are Dr. Gottman's principles that he can observe a married couple in conflict for fifteen minutes and determine whether they will divorce—with over 90% accuracy—assuming their interactive patterns remain unchanged.
If you've ever wondered why some couples thrive while others dive, this seminar will provide answers. In less than a full weekend, you'll learn the six toxic patterns observed in "disaster couples" that cause their demise, and the seven relationship-building patterns observed in "master couples."  As a couple, you will engage in private exercises to help you apply—in-seminar—the Principles to your relationship.
Includes The Seven Principles for Making Marriage Work paperback book, two Couples Guides, and Love Maps and Open-Ended Questions card decks
The Seven Principles for Making Marriage Work is the bestselling and acclaimed culmination of four decades of research, presented in an accessible format to anyone who longs for stronger, healthier relationships.
Until now, marking up the book's pages was the only way for readers to record answers to its many exercises. Our new Couples Guide takes couples step-by-step through the interactive exercises in each chapter of The Seven Principles, and it offers each partner their own private space to work through exercises and journal thoughtfully about each principle as it applies to their own relationship.
Couples will learn and practice research-proven tools:
Make conflict work for your relationship
Deepen intimacy and build trust
Identify your solvable vs. perpetual issues
Strengthen your foundation of friendship
Collaborate more effectively to solve problems
Communicate clearly and effectively (…and get more of what you want and need as a result!)
The registration cost is per couple and includes one complimentary copy of Dr. Gottman's book: The Seven Principles for Making Marriage Work. (Professionals who work with couples, and are interested in the research from an educational standpoint, may attend unaccompanied, or with their partner, or with a colleague or friend.)
FAQS:
Must both partners attend? 
Ideally, as couple exercises are part of the event.
Is the seminar only for married couples?
No, the material applies equally well to couples who are dating, cohabiting, or engaged.
Professionals in helping fields may attend unaccompanied, or with their partner, or with a colleague or friend.
Will we share our struggles publicly? 
No, couple exercises are done privately. Participation in group discussion is voluntary.
Do we have to read the book? 
No, but learning is enhanced by the additional information provided in the book.
Where can I contact the organizer?
Please email lori@nationalmarriageseminars.com or call 813.960.0001
How do I secure Continuing Education Units (CEUs/CEs)? 
Counselors wishing to earn 8 CEUs, please notify the organizer at the time of registration. (If registering through National Marriage Seminars, CEUs are handled according to their policies, pricing, and procedure.)
Can't attend in person, try our online Couplestrong workshops. Click Here for information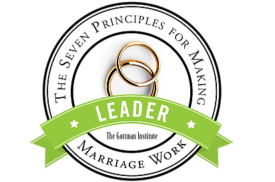 Select an Upcoming Training Session