Core Skills on Forming and Strengthening Relationships
"There is something special about knowing how to relate well" - Rick
Equipping You With Research Based Skills
"Drawing on cutting-edge research and a lifetime of experience, Richard Marks brings to life the necessities inherent in cultivating, growing and maintaining a healthy relationship. I highly recommend RelateWell."
Crafted for the Practitioner
Institute trains therapists to empower couples to deepen their love and ability to solve issues in caring ways through the integration of a research-based relationship skills program. We teach core skills for intimacy, emotional regulation, communication, and maturity through the Four Protective Walls of a Relationship—the "Us."
Marriages and relationships continue to break down. You can attain our relationship-skills process that increases success for the therapist and the couple, alike.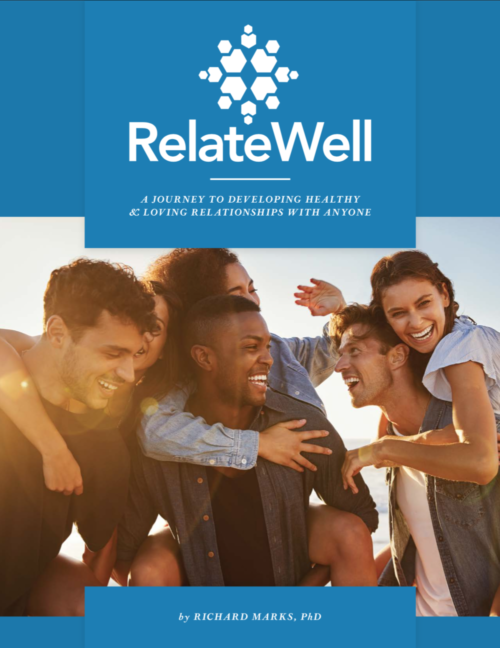 Relate Workshop Description
Couples enter into therapy greatly distressed, disconnected and desperate.  Frequently—even after extensive marriage therapy—they report being "stuck".  Why?  Because they can't seem to stop doing what they've always done.
RelateWell changes this paradigm–empowering couples with the tools needed to deploy new behaviors–empowering them to DO things differently.
Using an approach fifteen years in its making, RelateWell has been helping couples gain greater return on their investment in counseling and achieve the marriage they desire. RelateWell revolves around Four Protective Walls that form a defensive membrane for relationships.  Innovative skills are taught for emotional regulation, healthy bonding, achieving relational desires, and improving communication and problem-solving skills.
During the workshop, you'll learn the nine steps of the RelateWell process and how to integrate this powerful approach in your therapy—increasing your success and empowering couples to create the marriage they've always wanted.
Ratewell Workshop Objectives
Understand the vital importance of teachability and humility to achieving relational success
Discover the power and impact of an "Us" vs "I" paradigm change
Learn crucial components—the FourProtective Walls—to empowering couples to change
Expand emotional regulation, communication, listening, problem-solving and confiding tools
Learn how "forgiveness" provides a strong foundation to heal
Explore the critical effect of family origin on the Four ProtectiveWalls in relationships
MODULE 1 Chapter One
Learn the impact of teach-ability and humility in relationships; the four emotional stages of development; gain a new perspective on "Us" vs. "I" in relationships; and the need to help couples envision desired outcomes in therapy. The Four Protective Walls are introduced and discussed.
MODULE 2 Chapter Two
Dr. Marks shares the traits of love and explores Dr. Robert Sternberg's Three Dimensions of Love.  A client's biological need for bonding and the ten core relational needs that lead to bonding and feelings of love are reviewed. Dr. David Ferguson's Relational Needs Assessment tool to identify a person's top three relational needs.
MODULE 3 Chapter Three
Empathy, the first of the Four Protective Walls of a relationship is explored. We'll study the importance of listening skills, the three aspects of intimacy, and review how the triune brain works relationally.  This chapter concludes with application exercises for therapy including listening and confiding skills to achieve greater empathy in relationships.
MODULE 4 Chapters Four and Five
Goodwill is the second of the Four Protective Walls explored in this session.  Dr. Marks reviews research and shares the need for forgiveness as an act of goodwill and a tool to accomplish healing.  Dr. Marks further teaches how to integrate forgiveness as an intervention tool. Also covered are skills required for emotional regulation; how conflict is structured through the stress response system; and how conflict can be resolved maturely while protecting the relationship. Techniques including "time-out" and emotional regulation are discussed and applied.
MODULE 5 Chapter Six
Respect is the third trait of Four Protective Walls.  In this module, Dr. Marks discusses the impact of communication styles and how the treatment of others impacts relational dynamics. A case study of two communication skills will be delivered in the context of couples therapy.
MODULE 6 Chapter Seven
Expanding further on the third component of "respect" as part of the Four Protective Walls, Dr. Marks will share in-depth healthy problem-solving techniques; types of solvable relational issues; and examine the power of collaboration vs. compromise. This module concludes with a review and application of the RelateWell problem-solving process.
MODULE 7 Chapter Eight
Humility is the fourth trait of the Four Protective Walls in a relationship.  Dr. Marks explores the concept of humility, its facets, and the benefits of living a healthy, mature life rooted in humility.  Dr. Marks provides an in-depth look at how core relational needs effect emotional maturity that is needed to sustain humility and how a lack of humility leads to power struggles.  A healthy relational boundary setting will also be examined.
MODULE 8 Chapter Nine
In this last module, Dr. Marks examines how unresolved childhood traumas and issues undermine the Four Protective Walls and impede the creation of "US". You'll learn to integrate RelateWell worksheets into client exploration and issue identification. This module concludes with a review and group discussion of each of the Four Protective Walls and how they serve to either enrich or hinder deeper levels of relational intimacy. Successful cases will be reviewed.
Dr. Richard "Rick" Marks earned a PhD in counseling psychology, a MA in marriage and family therapy and an MA in religious education.  He is a licensed professional counselor and a Clinical Fellow with the AAMFT, a member of the International Association of Marriage and Family Counseling, a member of the American Counseling Association, and has spoken at national conferences such as the IAMFC, AACC, Smartmarriages, The Florida Addiction Summit and the annual NARME conference.
Dr. Marks is a highly sought conference speaker for businesses, social service organizations, the military and faith-based organizations.  His training includes working with trauma victims, substance abuse, sexual addictions, troubled marriages, and general mental health issues.  Since 2004 he has led a monthly HOPE Weekend marriage intensive, as well as individual marriage intensives. Using the RelateWell process, 85 percent of highly distressed couples have remained together and even report marital satisfaction after a year of completing the intensive program.